Medical Innovation Building Coming to Medical Mile in Late 2021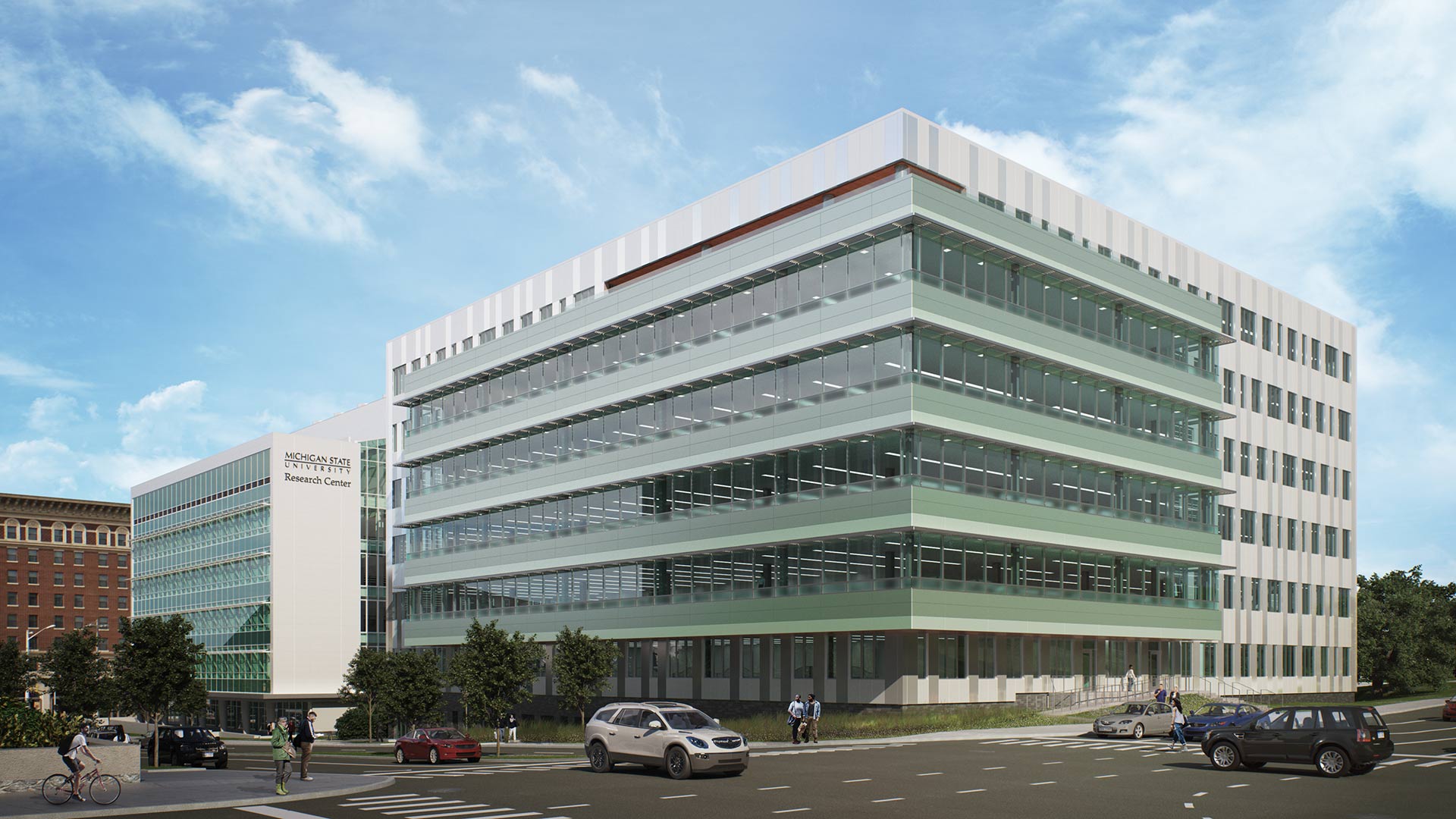 Health Innovation Partners (a real estate development joint venture between MB Real Estate, Walsh Construction/Walsh Investors and Rockford Construction) and Michigan State University announced the signing of a long-term ground lease for the development of a medical innovation building and parking structure at 400 Monroe Ave. NW.
MSU's state-of-the-art Grand Rapids Medical Research Center opened in 2017 and is currently the only structure occupying the northeast corner of Michigan Street and Monroe Avenue. Now with a signed ground lease, plans for a medical innovation building can move forward, with a groundbreaking expected this fall. The project will be approximately 200,000 square feet with a 600-car parking structure. A third building is planned for the future.
"The medical innovation building will create an ecosystem to enable synergies between academic medicine, health care delivery systems and industry partners that will join us in the transformation of health," said Norman J. Beauchamp Jr., MD, MHS, associate provost and assistant vice president for health affairs, Michigan State University, and dean, MSU College of Human Medicine. "We are excited Health Innovation Partners shares our vision for the advancement of health care. We are a community that has the ability to bring health and healing in a way that is so needed by our state and nation."
The new building will focus on driving innovation through public-private partnerships (P3) by encouraging relationships across tenants, and as a result, bring new discoveries to market. Anticipated outcomes of the collaboration include research, testing and commercialization of new therapies and devices.
"The ground lease between Health Innovation Partners and MSU reflects a continued team commitment to downtown Grand Rapids while accelerating the role of life sciences in our community. This development strategically leverages the advantages of the Medical Mile and MSU's ability to catalyze innovation through research, education, clinical health care and private companies. The project will also introduce additional new jobs to the area and we're proud to be a part of it."
Mike VanGessel, Rockford Construction Founder and CEO
The project has garnered strong interest, and the university and developers are currently in conversations with tenants interested in helping bring the unique concept to life. The center is anticipated to open in late 2021.
"We are pleased to be involved in this joint venture with such innovative partners," said John Murphy, vice chairman of MB Real Estate. "MSU has brought a wealth of opportunity to West Michigan through its education and research ventures and we are eager to break ground on the next step for this innovation park."
MSU and the developers are in discussion with tenants spanning private industry and health care teams focused on disciplines like cancer research, neurodevelopmental and neurodegenerative disorders, artificial intelligence, and medical device development.
"The addition of the MSU Innovation Center to the Medical Mile will lead to more groundbreaking health care treatments and new product development, thus spurring further economic development and investment in the region. This will continue to grow and solidify the region's position in this critical sector. The Right Place is excited to collaborate with MSU to further grow our West Michigan economy."
Birgit Klohs, The Right Place President and CEO