Rock Perks Spotlight: Oh, Hello Co.
By Mason Nichols
Oh, Hello Co. is a shining example of how hard work and tenacity can result in big gains. The company, which originally started on Etsy in 2014 as a small greeting card business, quickly expanded into the planner and stationery world less than a year into operation. As a result of this shift, success skyrocketed, and by the end of the first year, Oh, Hello Co. was among the top 5% of all Etsy sellers. At that point, as Founder Kayla Benda explained, the company created an online store. And, they "haven't looked back since."
In 2020, Oh, Hello Co. decided to open a retail store in downtown Grand Rapids at 40 Monroe Center. The store offers a full selection of handcrafted items from local vendors, planners, stationery supplies and, as Benda puts it "just really cute stuff." We sat down with Benda to talk more about Oh, Hello Co. and the impact her business has on the local community.
Editor's Note: Photos on this page courtesy of Oh, Hello Co.
What makes Oh, Hello Co. different from competitors?
More than 30% of our entire gift shop contains items crafted by local creators and vendors from throughout the Midwest. We also host classes and workshops in the back of our store in our free community space.
What's your favorite thing about operating a business in Grand Rapids?
The culture in Grand Rapids is so unique and the city is constantly changing and evolving. Somehow, GR is simultaneously a big city and a small town. You can hardly walk down the street without recognizing someone, but at the same time, there are still little treasures to discover.
What's the most satisfying part about serving your customers and the community?
Helping creators grow their businesses. For most of them, their products have never been in a retail store before and they need help with packaging, pricing and inventory. It's so fulfilling to see how excited they are when they get their first sale. Plus, customers know they'll always get something unique when they come to our store.
Why did you join the Rock Perks program? What benefits has it brought to your business and your customers?
We are a company focused on community. Just like our store has products from tons of unique creators, we wanted to expand outward to the wider community itself.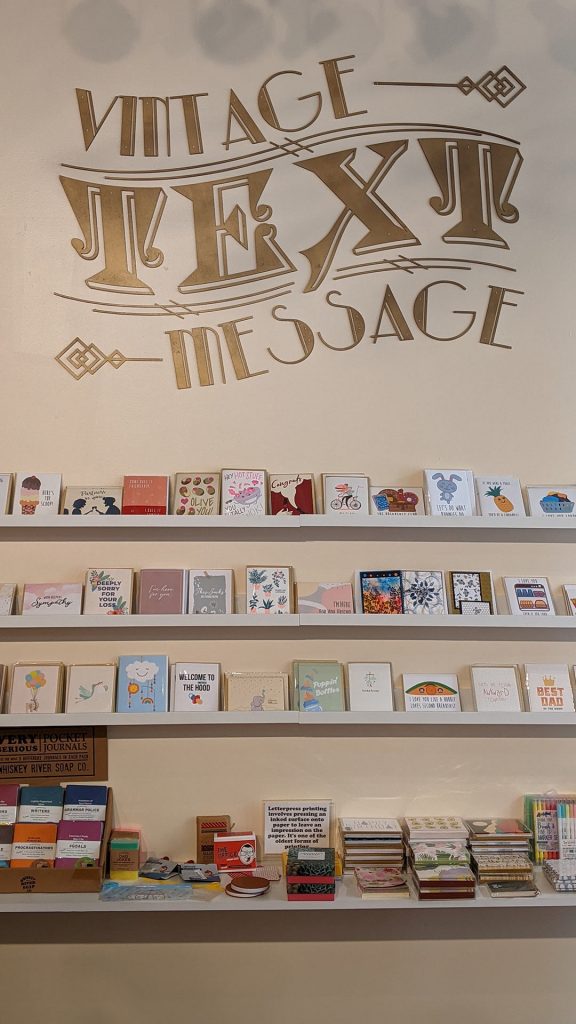 What's on the horizon for Oh, Hello Co.?
Here's hoping 2021 is kinder to us than 2020! We're looking forward to not being closed for a couple of months, hosting classes and workshops, and constantly growing and changing our inventory. Every time you come into the shop should be a new experience.
Is there anything else you'd like to share about your business?
Oh, Hello Co. is 100% women owned. We have a TON of greeting cards, free Wi-Fi and a workspace anyone can use in the back of the shop. Come check us out!
As a Rockford Property Management resident or Rockford Construction team member, you have access to the Rock Perks program, which will get you 10% off at Oh, Hello Co. Paper & Gifts. Don't have a Rock Perks card yet? Consider joining us as a resident.