Making Old, New Again: Building Demolition Showcases Rockford Recycling Efforts
Making room for new buildings often involves tearing down old facilities. At Rockford Construction, we drive sustainability in all our projects, and reclaiming and recycling building materials is an important aspect of building demolition.
When Rockford was selected to build Spectrum Health's new Center for Transformation and Innovation, the plans required removing a large industrial building on the site – the former home of Gill Industries.
The building had been repurposed and expanded several times from its origins as a stamping plant in the 1800s, but its history meant there were unexpected surprises for the construction team to uncover as the demolition progressed.
At points during the demolition, crews found storm sewer pipes that had been abandoned, railroad tracks that had been paved over and heavy-duty foundations buried in the ground that had been used to support massive brass stamping machines.
Butler said removing the pieces to be prepared for crushing took the largest excavator available in Michigan.
All that material – concrete, structural steel, rebar and more – had to be removed to create suitable site conditions for the construction of the new office building. A massive undertaking was needed to remove enormous foundation sections, some as large as 40 feet long, 24 feet wide and 8 feet deep (think of three city buses side by side) from the ground.
Rockford project Superintendent Zach Butler said removing the pieces to be prepared for crushing took the largest excavator available in Michigan to be able to pick up pieces that would be broken apart by other heavy machinery.
"We had anticipated about 10,000 tons of crushed concrete to come from the site that we knew about, and we had anticipated using it to balance the site and create a laydown area for construction materials, but we ended up with much more to recycle and reuse," Butler said.
Butler said once the first several tons were pulled out and the steel removed, the Rockford team realized the crushed product was high quality, meeting and exceeding compaction and density testing specifications.
"We had third-party testing come in to ensure the quality of the product, and it came back with flying colors, so we were OK'd to reuse the concrete on the project for foundation supports and footings," Butler said.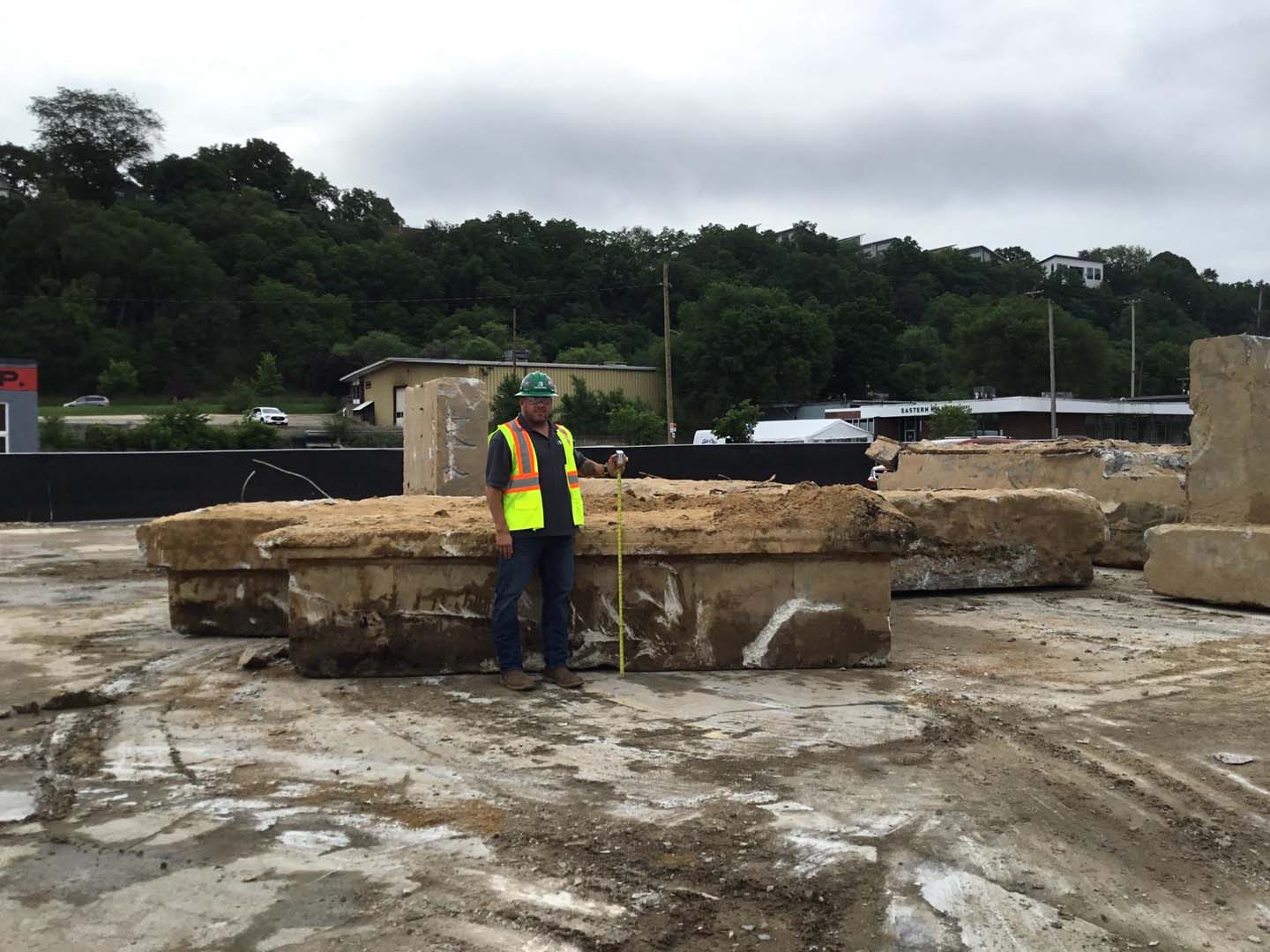 When all the underground concrete was removed from the site, approximately 20,000 tons – roughly the weight of two Eiffel Towers – was crushed and reused instead of being trucked to a landfill.
The Rockford project team also helped manage the recycling of approximately 1,250 tons of steel and more than 2,000 fluorescent light bulbs. Overall, more than 94% of the existing building was able to be recycled, reused and repurposed.
"It took some more work, but it saves money on trucking, dumping fees, saves on needing material to bring into the site and it's great for the environment," Butler said. "The ability to reuse this much of a former building is a great success story for Rockford's focus on sustainability."
The crushed concrete will be used onsite to stabilize and provide a strong, compacted base for the footings and foundations of the new building and parking ramps. Excess crushed materials will be sold to other companies that need it, helping reduce trucking emissions that would result from hauling material from out-of-town crushing plants.
"It's one of the cleanest building projects I've ever seen," Butler said.
________________________________________________________________
Sustainability is one of Rockford Construction's core values, and an important factor in every project we are involved with. As work continues on Spectrum Health's Center for Transformation and Innovation, our team is continuing to work to keep sustainability top of mind. Whether that means reusing salvaged materials or finding opportunities to minimize waste, our team is dedicated to maximizing sustainability for our clients and for the planet.