Women In Construction Week 2022
At Rockford, our team is critical to the success on each of our projects. We are fortunate to have a diverse team in what can often be a male-dominated field, and the women on our team are key players in our success. With women represented at every level of the company and in a wide range of positions – both in the field and in the office – we are proud to celebrate the women of Rockford as Women in Construction Week wraps up.
We asked a few of the women on our team about their experience, what construction means to them and what advice they have for women thinking of exploring the wide range of opportunities in the construction industry.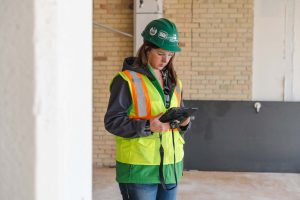 Project Engineer Chelsea Fowler works on a project site.
What drew you to the construction industry?
"The construction industry was never something that crossed my mind until I began working at Rockford as a construction administrator. This is where I learned all about construction at a very basic level. After asking questions and seeing multi-year projects transform our community, I was hooked." – Chelsea Fowler, Project Engineer
"I enjoy all the coordination between trades, all the new beginnings in the field and all the build-outs from design models to finished buildings." – Chaoying Zhang, MEP Coordinator
"I started as an intern in 2017 and knew I wanted to stay with the company because I really enjoyed the work. I liked the ability to be part of something greater than myself and the family aspect I have found at Rockford." – Elizabeth Barba, Field Engineer
What has been the most rewarding moment in your career?
"Having the opportunity to go onsite at one of Rockford largest projects. This experience brings opportunities to learn more, ask more questions and engage with trade contractors and the field team." – Chelsea Fowler, Project Engineer
"Building and leading MEP (Mechanical, Electrical and Plumbing), VDC (Virtual Design & Construction) and BIM (Building Information Modeling), starting with the industrial group then to Rockford Construction company-wide." – Chaoying Zhang, MEP Coordinator
"My favorite project was working on Beacon Hill, a senior living community, because I was able to see the project from start to finish and had an opportunity to interact with residents that would be living in the space we were building." – Elizabeth Barba, Field Engineer
What advice do you have for other women who are interested in working in the construction industry?
"Ask questions! Construction is complex and demanding, but it's also very rewarding. Don't feel intimidated to ask the hard questions." – Chelsea Fowler, Project Engineer
"Believe in yourself. You have the skills, no matter if it's a technical skill or a management skill." –  Chaoying Zhang, MEP Coordinator
"You have to be strong. Women are leaders and can excel in the field." – Elizabeth Barba, Field Engineer