Localize the 2020 Holi-DAZE with Local First
Editor's Note: The following post is courtesy of our friends at Local First.
Fall and winter are busy times for all of us. Between year-end bookkeeping, social (distance) engagements, busy storefront hours and personal holiday shopping, it's no wonder these months fly by. And this year is no exception — plus, we have the added stress of rapidly changing safety precautions. It's enough to overwhelm anyone. But it doesn't have to be when we take advantage of our community resources!
Locally owned independent businesses keep our economy stable. They keep capital circulating, create jobs and build a sense of place. Shopping at big box stores and ordering from suppliers across the world means that your dollars leave West Michigan. This destabilizes our economy and makes us vulnerable.
West Michigan's local businesses are still recovering from the ongoing pandemic. They are depending on us to put local first before, during and after the holidays. Put your money where your mitten is and let us streamline your holiday cheer!
Shift your spending
Vote with your dollars this holiday season! Over the next several weeks, Local First will be fleshing out eight ways you can shift your spending to locally owned businesses across West Michigan. Follow along with Local First on Instagram and Facebook. Here's a sneak peak of how you can shift your spending:
Nov. 15-21: Stock Up!
Nov. 22-28: Party Prep
Nov. 29-Dec. 5: Shop Online
Dec. 6-12: Artisan Markets
Dec. 13-19: Experiences
Dec. 20-27: Gift Cards
Dec. 28-Jan. 3: Resolutions
Your favorite locally owned businesses are also hosting a slew of fun holiday events and providing holiday discounts. Search for discount opportunities and event offerings by using the Local First's online directory.
Scavenger Hunt
Local First is also hiding the Holiday shift your spending themes within their directory. If you find one of them, click on the theme and be entered to win a Localist treasure!
Love your locals
Voting with your dollars is an important part of fostering a vibrant and inclusive economy, but it's not the only way to show West Michigan's locally owned businesses some love. It's no secret that this has been a difficult year for many. Give your favorite locally owned businesses some love using Local First's "I support local" Facebook frame and/or sharing the fillable "Love Your Locals" Instagram story image. Also consider sharing out your local business love by tagging @LocalFirstWestMI and the business(es) you support and/or using the hashtags #GiftLocal, #PeopleFirstEconomy and #SupportLocal on any of your social media posts.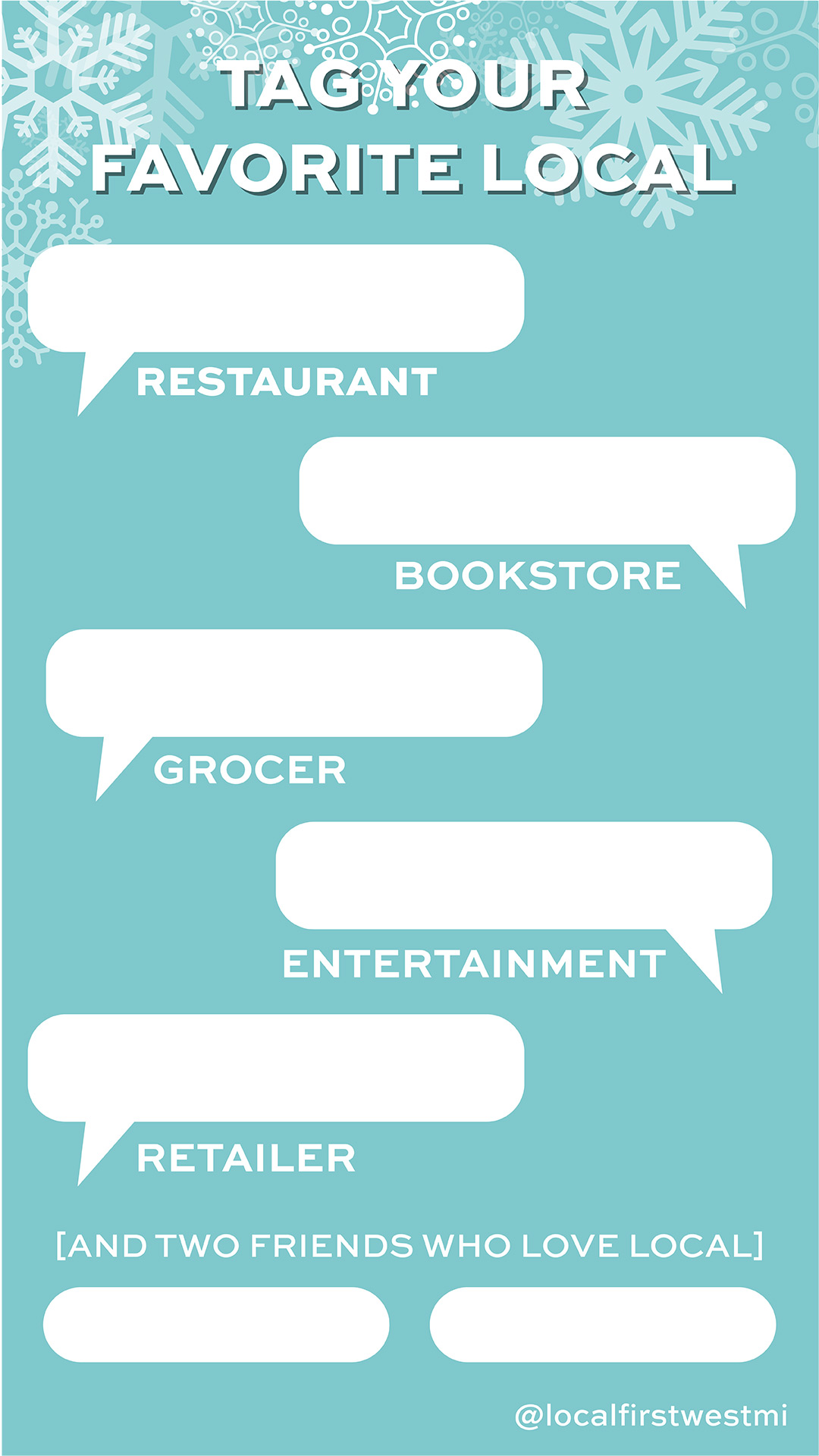 Other ways you can help
Update your Facebook picture with Local First's frame. Learn how and search "Gift Local."
Tag your favorites on Instagram with the image above. Click here to download.
Share these cost-free ways to support local business.
We're so grateful for a strong local business presence in West Michigan! Thank you for shifting your spending to local businesses this holiday season.