Around GR: Relying on The Rapid
By Mason Nichols
While plenty has changed in our world since the onset of the COVID-19 more than a year ago, one thing hasn't – Grand Rapids' reliance on getting around town via The Rapid. Founded in 1963, The Rapid has provided the city with safe and efficient public transportation options for nearly 60 years. And while the pandemic certainly presented many new difficulties and considerations, according to Brittany Schlacter, acting communications manager, The Rapid team is more confident than ever in its systems.
"Despite the challenges of the past year, our outlook is positive," she said. "Ridership is still down about 60%. But we remained in service throughout COVID and made a number of really important communication and cleanliness upgrades that aren't going anywhere."
The Rapid's response to COVID-19 was sweeping and wide-reaching, taking into consideration both riders and operators. Steps taken include:
Requiring all riders and operators to wear a face covering on Rapid vehicles
Cleaning and disinfecting vehicles each night
Disinfecting all high-contact areas on vehicles during the day
Treating all vehicles and facilities with an anti-microbial agent that prevents the growth and survival of viruses, microorganisms and other germs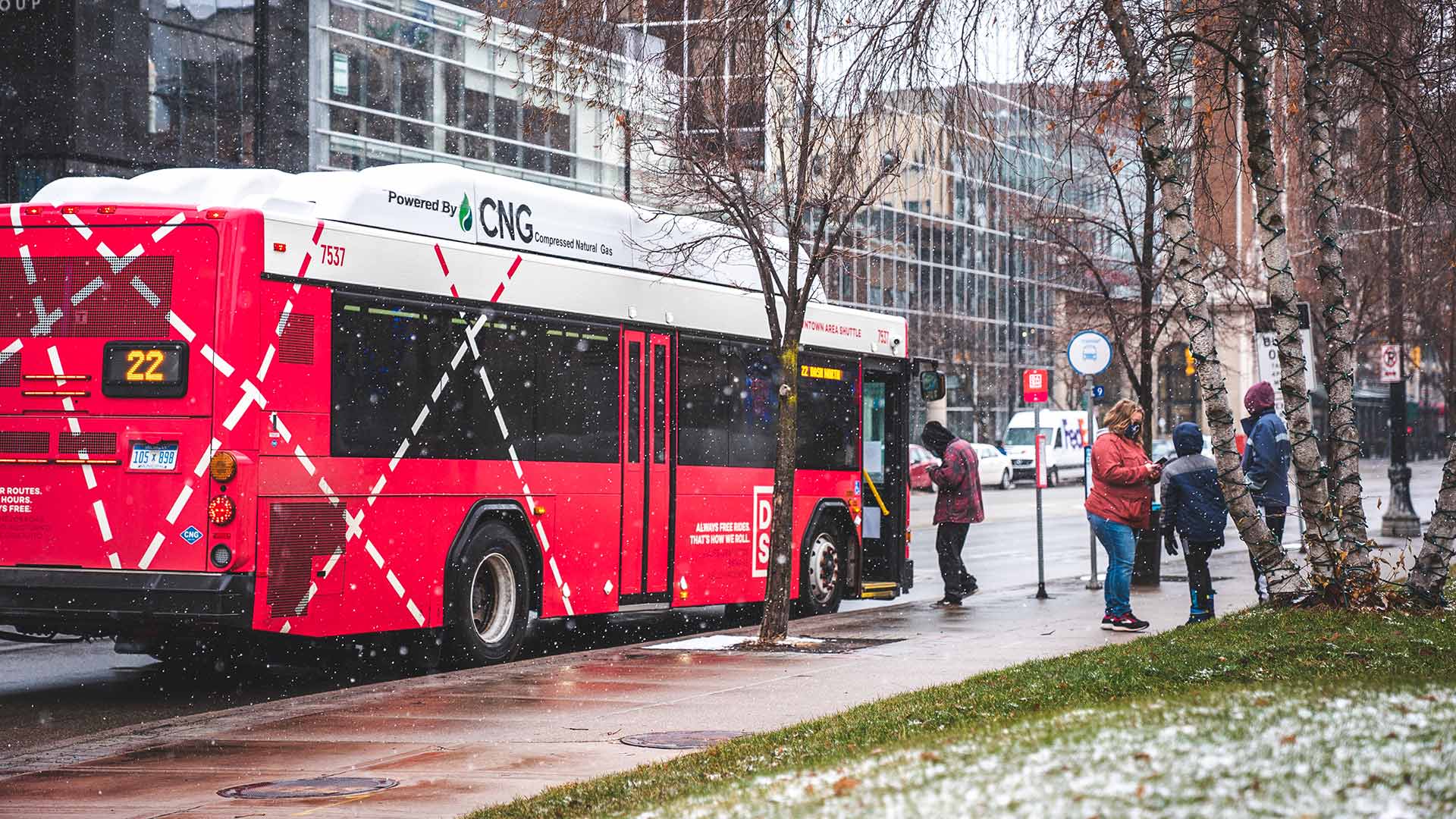 In addition to the above, Schlacter explained that The Rapid also uses UV lights, steam cleaning technology and electrostatic sprayers – all in the name of keeping Grand Rapids moving in the safest way possible. All sanitation methods are applied fleetwide, including with the City of Grand Rapids' DASH service, which is maintained by The Rapid.
But the innovations don't stop with cleanliness. As Schlacter explained, officials at The Rapid understand that transportation is a lifeline, which is why her team is working diligently to provide more mobility access to those who need it. Current efforts include Mobility for All, which will provide access to frequent, 15-minute all-day service on weekdays within key corridors. This enhancement will increase the frequency for 136,000 residents and 67,000 more jobs within The Rapid's service area. Mobility for All will also include on-demand zones, which will allow riders who are located in key hub areas of Walker and Kentwood to request a ride as they please.
Schlacter explained that The Rapid is also currently working on Division United, a transit-oriented development project that is seeking to identify opportunities and strategies to improve mobility options for those in Grand Rapids, Kentwood and Wyoming along the South Division corridor. Division United's goal is to get all three cities to align policies and incentives while building community goals that will allow the corridor to thrive.
With so much going on, now is a great time to get out and hop on a bus as you support small businesses, eat at local restaurants and explore Grand Rapids. And no matter where the next few years may take us, The Rapid will be there, providing your transportation lifeline and doing everything possible to keep the city connected.
"Every week is a new week of opportunities for us to offer services and work for community partners. And that's been the exciting part of everything we've experienced – leaning into those community partnerships and doing the work we need to get done for our customers."
Brittany Schlacter, Acting Communications Manager, The Rapid